Narration  - Commercial - Documentary - Corporate & Industrial - Audiobook - Telephony - Internet - Neo-Soul - RnB - Rap - Hip Hop - Dirty South - Jazz - Rock - Fusion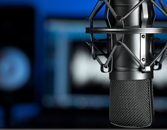 VOworks Studios is your complete source for Voice Artist Training, Voice Over Coaching and Voice Over Production. We train, coach, cast, and produce voice overs in our state-of-the-art studio located just 35 minutes from Washington D.C. VOworks is second to none in affordability and value, and boasts a comfortable, state-of-the-art, non-intimidating environment that promotes collaboration, relaxation and inspiration.

For the Professional
Need some help with that studio set up? How about some help with that

marketing campaign? Maybe you've got an upcoming audition or maybe you need some polish before cutting that next demo reel, or, maybe you just want to stay sharp. Whatever the occasion, VOworks Pro Coaching and Training program is just what you need to stay on top of your game. It's Affordable, convenient, and thorough.

We can work with you no matter where you live!

Copyright © 2012 - 2013 VOworks Studios